Barranquilla, Colombia Matchmaking Agency for the Elite
Love International
CENTRO COMERCIAL Aranjuez
Cl. 82 #53 - 15
254P+GR Barranquilla
Atlantico, Colombia
+57 320 30 39 123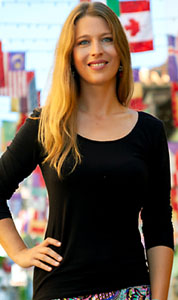 Maria - Executive Matchmaker Baranquilla
Just in time for the famous Barranquilla Carnival? Or are you simply looking forward to enjoying a fun-filled vacation in the city?
Whatever it is, we know for a fact that you don't want to be alone in this exciting, new adventure. Let us be your guide.
Love International and the AFA Network are an established matchmaking agency with a worldwide, full-service operation that focuses on bringing people together to find lasting relationships and successful international marriages.
Since 1995, we have provided quality service for thousands of men and women from all around the world. Despite the size and reach of our operations, we guarantee you with full support and personalized attention to assess the best matches for you.
Our global infrastructure includes hundreds of staff members in nearly 20 countries across the globe. This allows us to do our job efficiently and successfully.
Finding the right person for you is our ultimate goal, as it is the foundation of our success – and yours.
That being said, we have professional matchmakers in Barranquilla, Colombia, ready to work with you personally. They are 100% committed to making your journey successful, and they will be with you every step of the way.
Learn more about how you can take part in this amazing opportunity to find the love of your life. Give us a call. We look forward to hearing from you!
Call Maria today at: +57 300 3958030 (Colombia)
Or corporate office at +1 602 539 8000
Toll Free North America: +1 (844) 522-9864
If you are in Colombia, please feel free to drop by any of our offices in Medellin, Cartagena or Barranquilla.
Love International Members
Below you will find some of our members' profiles. We always respect members' privacy. Members shown have given their specific permission to have their profile visible on our site. These profiles are just a small example of the tens of thousands we add to our system each year.